What's New
Custom peristaltic pump applications
At Randolph Austin we realize that not every off-the-shelf item is a fit for all pumping applications, and we will work with our customers to provide custom pump assemblies that meet their requirements. If our standard items don't meet your needs, talk to our sales staff about custom applications, materials, motors, and any other requirement you might have.
We have built custom dual head pumps, stainless carts with peristaltic pumps, dual timer dispensing units, as well as specialty configurations for applications as varied as pharmaceutical to under-sea applications.
Need a precise, exact dose metering pump?
We've Got It!
Call or email for more information:
Toll-free in US
800-531-5263
512-282-1590
sales@randolphaustin.com
Need a solution for an OEM application?
We've Got That Too!!!
As the exclusive distributor for Thoelen pumps in North America, Randolph Austin Company has added more selection to its range of peristaltic pumps. Thoelen pump offers a broad array of pump choices for the OEM and laboratory market in mind.
There are four basic models for the OEM; TP S-50, TP-2004, TP-3005 and TP-4000. These pumps are excellent choices for applications such as condensation pumps, intermittent dispensing units, food and beverage as well as a host of other applications. Thoelen Pump Specifications (click to view pdf)

Randolph Austin Company, through our partnership with Thoelen, now offers a variety of very precise dosing and metering pumps as well as more economical variable speed pumps for industrial and laboratory applications.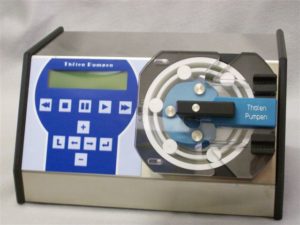 For precision metering, the TP 1000V is an excellent choice. The unique design of the pump incorporates a fixed internal rotor for each of the four different internal diameters (1.6, 3.2, 4.8, or 6.4mm). With its precise control features and calibration process, the pump dispenses fluid in an extremely repeatable manner. This pump is an excellent choice for biotechnology, laboratory, and pharmaceutical applications, as well as small to medium batch filling or for dispensing against pressures of up to 3 bar (43.5 psi).
A more economical alternative to precision metering of the TP-1000V, the TP-4000V offers the same control configuration as the TP 1000V, but with a more traditional peristaltic pump head. It still is an excellent choice for metering and filling applications that can accommodate a little more variability in the process and don't require a pressure discharge.